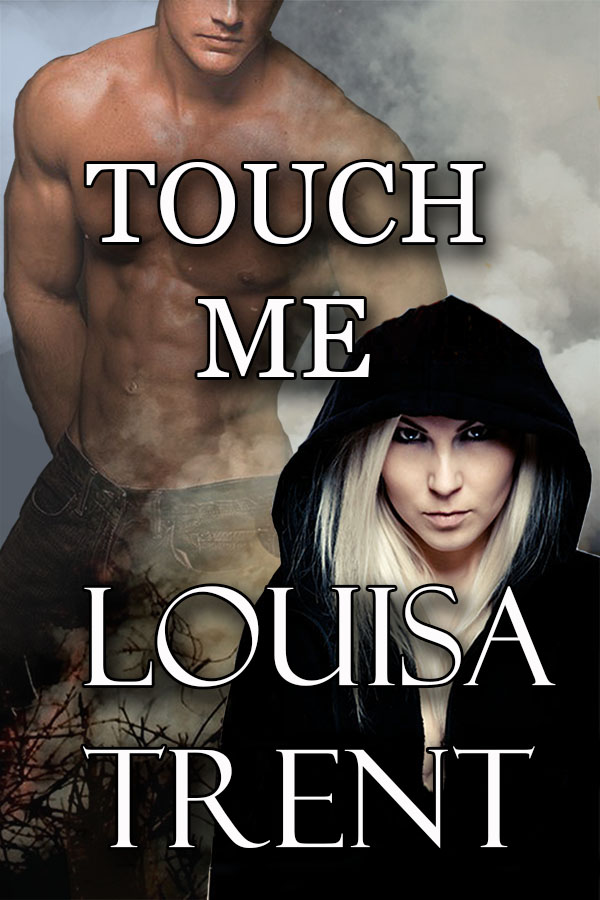 Two present day lovers relive the parallel . . . and ambiguous . . . sexual conflict of two lovers from the past.
When docent witch Catherine Covington uses her powers of witchcraft to save the life of CIA operative John 'Hawk' Adams, she does so at great personal risk to herself. Through her complete and total sexual submission to the dominant and disturbed John, Catherine finally reconciles what is to be a witch with what it means to be a woman. Only then does Catherine understand the visions that have plagued her concerning the captivity of her 17th century ancestor, Euphremia Prim, at the brutal hands of Hawk, a Wampanoag warrior . . . and John's distant relative.
A beautiful witch in sexual bondage. A beleaguered warrior carnally enthralled. Centuries of recriminations and lust explode when two lovers confront a past wrong...because even in the realm of darkness love will hold dominion.

An operative is dying while waiting for rescue and a psychic witch is the only connection he has to this world... John 'Hawk' Adams lives in a state of hell, with sickness deteriorating his mind and body. His grip on sanity is held by a woman with luscious curves and the will to force him to continue on. Catherine Covington comes from a long line of witches, women blessed with special powers and knowledge passed on through their lineage. She has known forever that her spirit was entwined with that of her earliest ancestor, a woman whose life would directly affect her ability to be with the only man she could ever love. John, a tortured soul, has so much pain and anger in him he's unable to see past his cruelty to accept the love she offers. The time comes for John and Catherine to play out the final chapter in a story that began in the woods of Plymouth so long ago. Only with courage will these two be able to get past all of the harmful energy and despair causing the ache they both suffer. ...This is the background for the masterpiece created by Ms. Trent. Touch Me was a powerful, mind-blowing voyage into a time when Mother Earth was our guide during sickness and illness, a time when people feared the blessings passed on by higher beings. This was a time when savages, both white and brown, ruled the countryside and caused havoc in each other's lives. Full of uncontrolled fervor, the brutal appetites both couples shared not only cemented their love but also came close to destroying it. This story is for not for people in search of the timid and weak; delving into this world is for those who can appreciate that love that isn't always wrapped in a fairytale, and that love sometimes has to go to hell and back before it is finally able to find contentment. I can't wait to see what Ms. Trent has in store for her readers next!
Rachel for Fallen Angel Reviews

John is a tortured soul. A CIA operative that has been missing for close to a year. Nearly insane, he is alone, having escaped from a brutal prison, and now sick with malaria. The only thing that has kept him going is his visions of a woman whose only words were " Touch Me."
Catherine knows how dangerous John has become, but she can't not help him. Using her magic, she forces him to come to her, knowing he will hurt her, but also knowing there is no other choice.
John and Catherine have a history. A 350 year old history. In 1675 their ancestors were together for one summer. The Puritan Ephremia was the captive of warrior Hawk, but was it as a willing captive or not? John and Catherine must work out a destiny that never had a chance to see itself fulfilled. The story of two couples, separated by hundreds of years, joined by something none of them can control.
Tralana for Enchanted Ramblings

Catherine is a modern day witch hiding in plain sight, who leads her coven and helps find missing children. All her life she has been linked metaphysically to a man named John, an operative with the CIA. When she has to almost expose herself to save John, she knows her life is going to change dramatically.
John has just escaped torturous captivity, but is dying in a jungle. Visions of Catherine sustain him, but his inability to touch her is driving him slightly insane. After his rescue John plans to find her, no matter the consequences.
When the two finally come face to face, Catherine and John must confront their supernatural past and deep sexual desires. Will they be able to move forward, or will it be a case of the past continuing to haunt them?
Touch Me is a dark romance with a strong storyline and marvelous subplots. The book moves quickly and flows well. John and Catherine's personalities are well matched throughout the book with great development. The sex is very hot and equally shocking, but does require overlooking some overachieving acts. There is some dramatically kinky sex, but the outstanding dialogue, especially the internal thoughts, allows readers to empathize with the characters and enjoy reading as their relationship grows. Touch Me is not a hearts and flowers romance, but a superb story and an excellent example of Loose-Id's envelope pushing erotica.
Anya Khan for Coffee Time Romance

Touch Me is a fascinating story that resides in the past and the present.... The characters share a love that is so great it transcends time.
Suni Farrar for Just Erotic Romance Reviews

TOUCH ME by Louisa Trent is a wonderfully written, erotic love story. This story is told in a unique fashion as we travel the road walked by Euphremia and Hawk, along with the present-day story of Catherine and John. This is a unique perspective as we keep going back from past to present and past again and watch both stories unfold. The story is incredibly moving as we become caught up in Euphremia and Hawk's story and the obstacles they faced. Then we move forward and watch Catherine and John deal with their own problems. The characters all come to life as the story unfolds. The settings are realistic and the sex is incredibly hot! This is one I highly recommend.
Chere Gruver for Courtesy Sensual Romance Reviews

Touch Me is a unique novel in that it deals with two couples from different times but living the same life. I could feel the torment of John and it would take someone who was willing to sacrifice herself to save him. Louisa Trent was able to take this idea and write it so that the reader is totally hooked
Patricia McGrew for Timeless Tales

Touch Me by Louisa Trent combines great erotic writing with elements of paranormal, romantic, and historical fiction to create an enjoyable, interesting read.
April M. Hedges for TCM reviews